The effects of coronavirus on our local and global society have dramatically highlighted many long-standing Green concerns – from climate impact to social justice, Universal Basic Income to the need for active travel routes.
Together with Southwark Green Party, we are hosting BEYOND COVID-19, a series of online Speaker Events for members and supporters to hear from topic experts and consider ways to ensure that the lessons from coronavirus lead to a more positive future for all.
Events are open to everyone, but you must RSVP to receive log-in access for each one. Details of all upcoming events are advertised here.
Due to coronavirus restrictions, all of Lambeth Green Party's meetings are currently taking place online.
26 July, 3 - 5pm: Annual General Meeting
Join us for Lambeth Green Party's Annual General Meeting! All members are invited to participate, whether you are brand new or an old friend.
We will have inspiring guest speakers, opportunities to hear from our Councillors, members' motions and voting on essential party business.
Sign up to let us know you are coming and to receive log-in details for the event.
8 July 2020, 7.30 - 9.30pm: catch up with councillors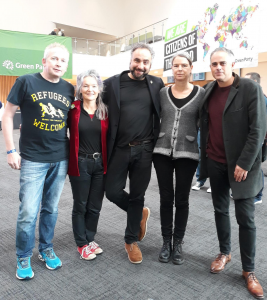 All LGP members and supporters are invited to join our informal 'Catch up with the Councillors' chat on 8 July. Two of our Lambeth Green councillors, Scott Ainslie (St Leonard's ward) and Becca Thackery (Herne Hill ward) will update members on what has been happening at the Council. It's a great opportunity to find out more about their work, ask questions, and chat with other LGP members on topical issues.
The meeting is open from 7.30pm for anyone who wants to chat and get settled. The Councillors will be talking about their work at 8pm. Drop in whenever suits you.
13 July 2020, (time TBC): Being a Green Councillor