Due to coronavirus restrictions, all of Lambeth Green Party's meetings are currently taking place online.
Unless specified otherwise, our meetings are open to everyone. You don't have to be a Lambeth Green Party member to participate. If you're interested in a topic, join us for a chat and spread the word.
Please note: for logistical and security reasons, you must register in advance for online events to receive meeting log-in details. Please also read our Online Meetings - Security Guidance before signing up to any of our events.
Monthly Catch up with the councillors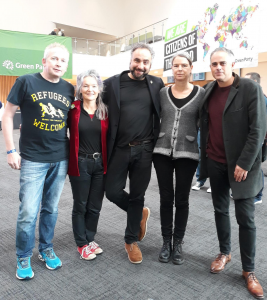 Next Sessions:
2 September, 7.30 - 9pm
Join us for our informal 'Catch up with the Councillors' monthly chat.
This meeting allows members and supporters to hear directly from Lambeth Green councillors on what has been happening at the Council. It's a great opportunity to find out more about their work, ask questions, and chat with other LGP members on topical issues.
The meeting is open from 7.30pm for anyone who wants to chat and get settled. The Councillors will be talking about their work at 8pm. Drop in whenever suits you.
2022 Elections - campaign kick off!
At the 2018 council elections LGP members and supporters smashed the record to win more Green councillors than any other London borough. Now, we have less than two years to deliver our strongest campaign yet.
Sign up to join out virtual campaign launch on 26 August, 7 - 8pm. This is your chance to learn more about the campaign, meet some of the candidates and find out how you can get involved.
Election campaigns are a lot of hard work, but also a lot of fun! There are lots of ways to get involved, ranging from leafleting to helping co-ordinate the campaigns. No matter how much (or how little) time you can spare, there's a role for you as we build teams to support the candidates.